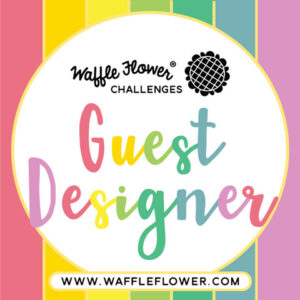 Hello friends! I'm guest designing for Waffle Flower Crafts new card challenge that starts today, 4/16. It is a sewing challenge! When Jeanne, the coordinator for the challenge asked me to join the fun, I was thinking machine stitching on my cards. I love machine stitching!  Later, I realized that "stitching" meant cross stitching to others. Well, I got busy watching videos on how to cross stitch. I made a trip to my local craft store and purchased some embroidery floss and the needles that Nina, the owner, suggested on her "how-to" video. Nina's video is  fabulous for beginners and you can watch it here. You can also purchase the needles on their website. I also purchased some of the new Waffle Flower pinking products to stitch on. While there was a bit of a learning curve, I really enjoyed trying something new for this challenge.
I had so much fun, I ended up making two cards for this week's challenge. 🙂 I'm using the following products for my two inspiration cards today.
Thinking Of You Card Supplies:
Be Her stamp and coordinating die set
Stitched Sentiments stamp set
Stitched Hug Card supplies:
Be Her stamp and coordinating die set
Stitched Sentiments stamp set
Thinking of You Card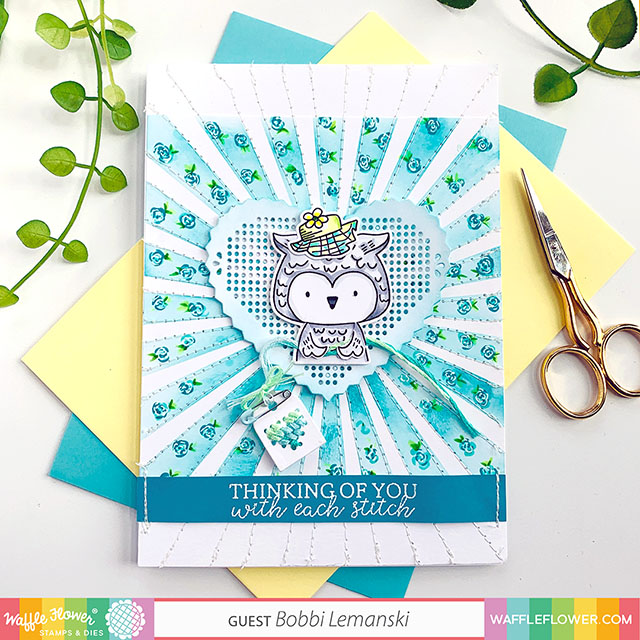 For my first card, I started with more machine stitching and less cross stitching. It was good that I started with this tiny tag from the Stitchable Hearts Die set. I increased my confidence by finishing the stitched project  quickly. Success! So far, so good with cross stitching. I die cut the tag out of 11olb cardstock and used a varied color of floss to create the cute heart on the tag. Easy peasy!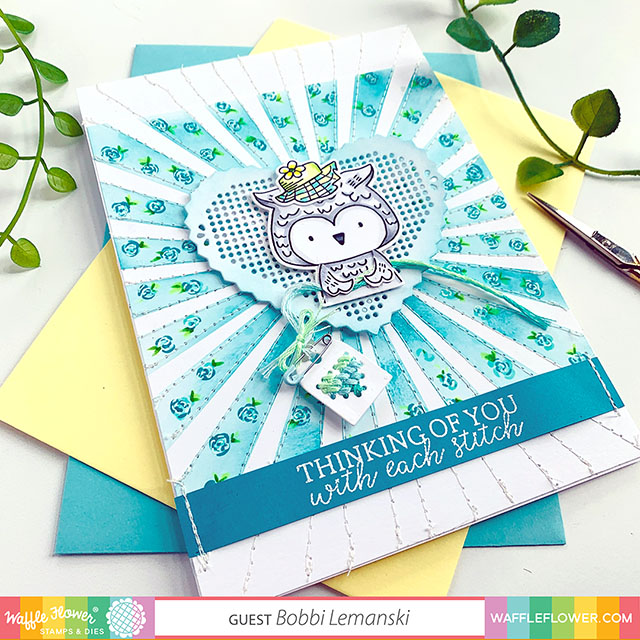 I used the Sunburst Stencil for the background with Mermaid Lagoon Distressed Oxide Ink. Once the ink dried, I hand drew roses on it in teals with green leaves to make the background look like a pieced fabric quilt. I machine stitched each section for the machine quilting look. Because my card is 5″ X 7″ and the stencil is 6″ X 6″, I stitched right through the white top and bottom borders for a continuous stitched look.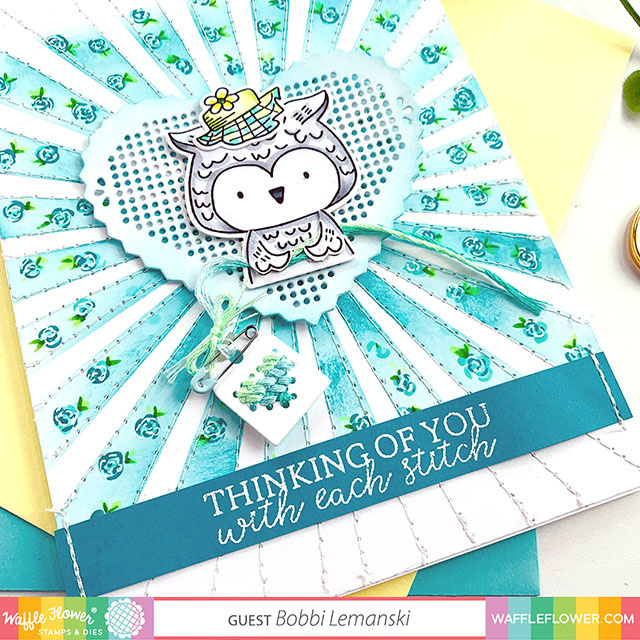 I layered the Stitchable Pinking Heart Die over the center of the background sunburst design and added the cute owl from Be Her stamp and coordinating die set – colored in grays – on top. I stamped the owl twice and cut out her wings on one image to adhere over the embroidery thread in her hands. The thread holds the tag.
Lastly, I heat embossed the "thinking of you" sentiment from the Stitched Sentiments stamp set on teal cardstock and attached it to the card front. I sewed the edges to look like a stitched label on clothing. I love how this one turned out!
Stitched Hug Card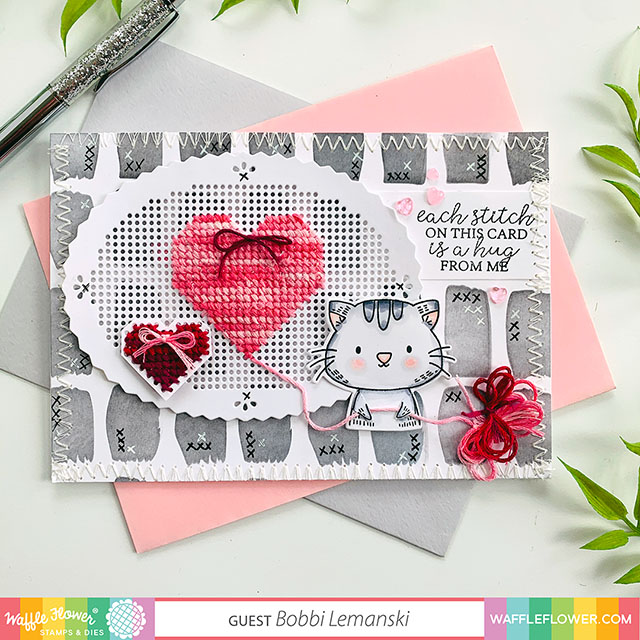 For my second 5″ X 7″ card, I took on a little more cross stitching for the challenge. I used the Stitchable Pinking Oval die and stitched away until I had a large pink heart positioned in the middle. I added a sweet bow to the heart in a maroon color. Next, I stitched a smaller heart using one heart from the Stitchable Hearts Die trimmed down. I used a multi maroon color of floss and added a light pink bow to this one. Okay, cross stitching done, now for some more machine stitching…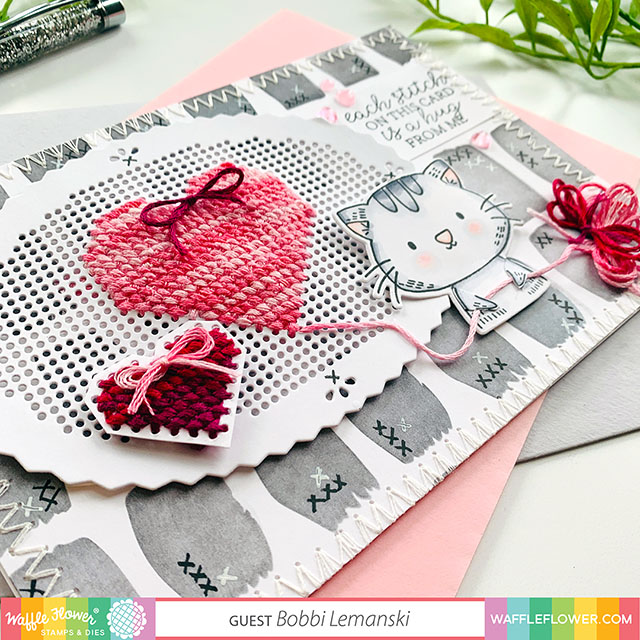 For my background, I used the Paint Strokes Stencil and Distressed Oxide ink in Black Soot to create a graphical background. In keeping with the theme, I added faux cross stitches on each stroke in black and white for added fun. I used a black marker and white gel pen to make the x's.
I stamped, colored and die cut the sweet kitty from the Be Her stamp and coordinating die set and attached it to the card front. Like card one, I stamped another kitty and hand cut the paws in front and positioned them over the thread and added a floss bow in the lower right corner using the two floss colors of the hearts. I machine stitched around the perimeter using a double zigzag wide stitch and attached the front to a white 5″ X 7″ card base to finish the card.
Join the Challenge!
Join the fun! Join Jeanne Jachnar, Nancy Penir and me and enter the challenge by 4/22 by linking up your card for a chance to win a gift card to waffleflower.com. Use sewing on your project to fit the challenge. I can't wait to see what you make! Now for my two cards… Link HERE for the challenge details and site to link your card. Enter by 11:59pm Arizona time on April 22nd.
I hope you enjoyed my stitched cards for the sewing challenge. If you decide to place an order, please use the links in this post so that Waffle Flower knows which ideas inspired you!
Thanks for stopping by today. If you want to see more ideas and inspiration from me, subscribe to my blog, BobbiHartDesign.com. I'll send you updates on new posts! You can also find me on Instagram as @BobbiHartDesign and on Facebook as BobbiHartDesign.